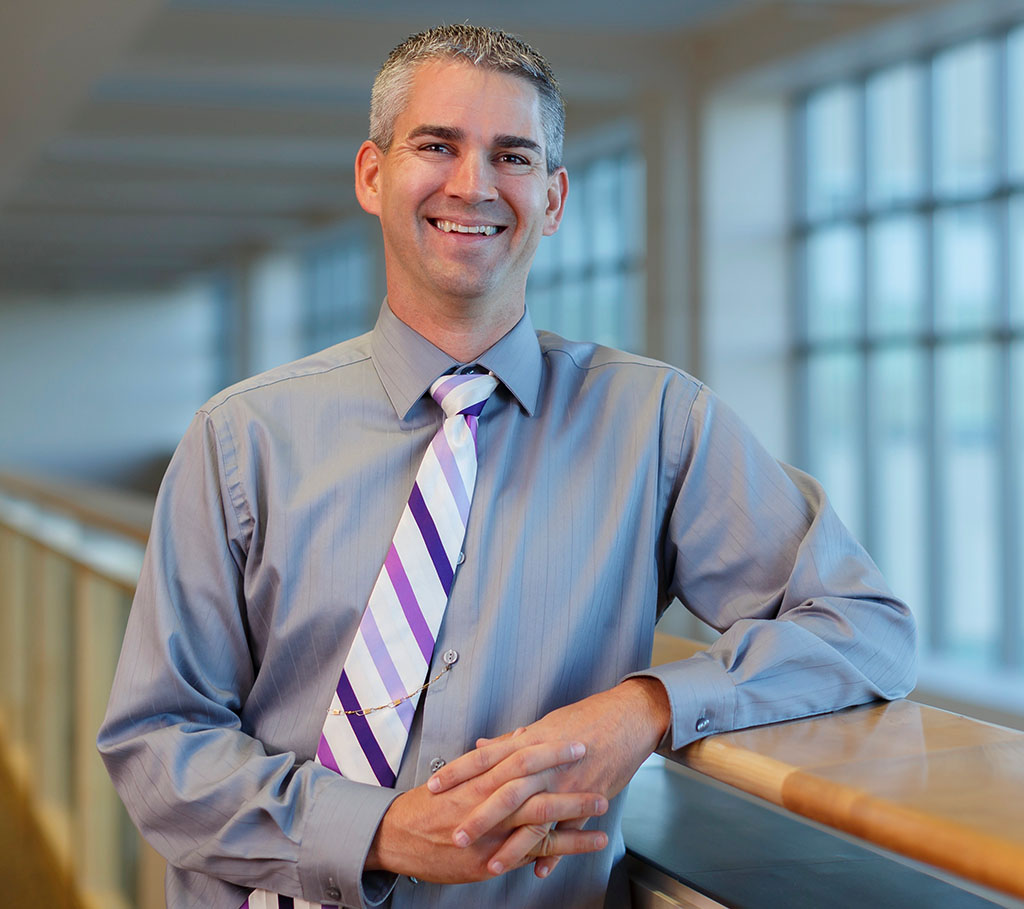 Named One of America's Best Physicians
Chair, AAGL Endometriosis/Reproductive Surgery Special Interest Group
Dr. Jeff Arrington is known far and wide as an outspoken endometriosis advocate, expert endometriosis excision surgeon, and advanced Minimally Invasive Gynecologic Surgery specialist. Since the early days of his Fellowship training, he has continued to challenge his knowledge and surgical skills to help patients with "hopeless" cases of disease. His dedicated insight and compassion makes him a leader in endometriosis; he understands the frustration, hopelessness and fear that so many patients have experienced as a result of the disease – and he is prepared to help. He advocates for patients both in and out of the O.R., and is well-known for his compassion and support of all those struggling with endometriosis and pelvic pain gynepathologies.
As one individual wrote of their experiences with him, "Dr. Arrington is a literal LIFESAVER. He, and the multidisciplinary team he put together including Dr. Macik and Dr. Gouldman,  who excised stage 4 extra pelvic endo from different places in my body including ab wall, bowel, diaphragm,  uterus, bladder and more.  I traveled from Nevada specifically to see Dr. Arrington as his passion and knowledge far exceed any other doctors I have researched and come across.  He is the type of doctor who will call you when he is running to get his kids if there is a problem, or answer your emails at all hours of the night. This is not something you can say of every doctor and is very comforting as a patience who is going through uncharted territory. I hope others are able to see Dr. Arrington to help fix this extrapelvic endo that so many probably have but do not know what to do. A++++++++++++"
Dr. Arrington was born and raised in Ogden, Utah.  After completing all his training, he and his family were fortunate enough to move back home to start his medical practice.  Even with the joy and success he has found with gynecologic surgery and advancing endometriosis care, his greatest success is and will always be his beautiful family.
Dr. Arrington graduated from the Medical College of Wisconsin. During medical school, he found an affinity for minimally invasive, laparoscopic surgery and was drawn to Obstetrics & Gynecology after completing his medical school rotations.  Still, surgery was his favorite part. During residency in Phoenix, he found opportunities to learn from advanced laparoscopic surgeons and to push for advancement of laparoscopic procedures.  He was given an honorary membership to the AAGL for excellency in minimally invasive surgery during his third year of residency. He was also recently elected to serve as the Vice-Chair of the AAGL Endometriosis/Reproductive Surgery Special Interest Group (SIG).
After graduating residency, Dr. Arrington had the incredible honor to study under the internationally renowned surgeon, C.Y. Liu, MD.  He spent a year operating side by side with one of the pioneers of gynecologic laparoscopy and during his Fellowship, Dr. Arrington gained experience with all types of advanced laparoscopic procedures including but not limited to hysterectomy, pelvic prolapse, fibroid surgery and surgical excision of endometriosis.
After returning home, Dr. Arrington began practicing general Ob/Gyn with a focus on minimally invasive surgery.  Due to patient need and his desire to focus on pelvic pain and endometriosis, he stopped delivering babies many years ago to focus on gynecologic surgery. Since 2005, Dr. Arrington has been instrumental in advancing minimally invasive surgical care across the state of Utah; he also personally performed many "firsts" for Utah state and the Intermountain Region. He was the highest volume robotic surgeon in Utah before moving here to the Center for Endometriosis Care.
The evolution of his practice to focus on advanced excision of endometriosis really was driven by patient need.  He was given the basic knowledge and understanding of surgical principles to treat this complex disease from Dr. Liu.  In practice he was able to continue advancing knowledge and surgical skill though focusing on endometriosis care. Ultimately, Dr. Arrington became an "endometriosis doctor." He has developed a skill and comfort level to help the hopeless, and is a firm believer that the best treatment for endometriosis is full excision of all disease.  He also has a solid understanding of the purpose and limitations of any hormone therapies that many Ob/Gyn generalists use for endometriosis "treatment."
For two decades, Dr. Arrington has been performing robotic surgery for endometriosis and other advanced laparoscopy.  He understands that the robot is merely a surgical tool and does not compensate for lack of knowledge or ability. In fact, every procedure Dr. Arrington performs with the robot, he first performed with standard laparoscopy. His use of robotics allows him to sit rather than stand during surgery, allowing him to have less physical fatigue during long and arduous surgical cases. Some early studies suggest that detection of endometriosis may be improved with the robotic optics; this may result in less normal tissue being removed (still, clear benefit of robotic surgery over standard laparoscopy is debatable).  The key is the surgeon, not the instrument. Nevertheless, Dr. Arrington is comfortable using multiple energy sources for removal of endometriosis.  These include electrical energy, scissors, and laser.  Regardless of the energy source, he performs advanced and meticulous excision of all disease.
Through his interest in endometriosis, Dr. Arrington has truly found his "happy place" with work.  Loved by the operating room staff and patients alike, he enjoys the challenge of difficult surgery and working with patients to instill even the slightest sense of hope to those who have suffered with a difficult and painful disease for far too long.  He enjoys the challenge of early management of endometriosis to prevent destructive progression.  As one patient recently wrote, "After searching for a diagnosis for many years only to be told there was nothing wrong with me, I was so happy to finally find Dr. Arrington. He listened to every symptom and concern I had as well as what my wishes were going forward. He is kind, caring, compassionate and listens with non-judgment. I never felt that my concerns were being dismissed or that I was just a number in the practice. Dr. Arrington is one of the few doctors I have seen that took my anxiety disorder seriously and understood how stressful surgery day would be for me. On the day of surgery Dr. Arrington came to see me in pre-op twice to make sure that I was doing okay and that I had everything I needed. He walked me through what was going to happen once we arrived in the operating room and kept reassuring me that everything would be okay. Once I was on the operating table Dr. Arrington held my hand the entire time until I went to sleep. My surgery was successful and my recovery has been smooth without any complications. I am so happy that Dr. Arrington listened and believed me and now I can look forward to being pain free and having a much improved quality of life. I would highly recommend Dr. Arrington to anyone who might be suffering with Endometriosis and is having a difficult time receiving the proper diagnosis and treatment. He is extremely knowledgeable when it comes to the diagnosis and treatment options for Endometriosis."
Known throughout the world as a compassionate and passionate surgeon, Dr. Arrington understands that each patient has an individual history with unique desires and goals.  With this in mind, at EndoWest, we focus on listening to patients tell their story.  Once Dr. Arrington has an understanding of how the disease has affected each patient and what treatments have been tried, he performs an appropriate physical exam and any imaging necessary to bring clarity to the patient.  With this information, a full spectrum of treatment options is presented to each patient to their understanding.  Armed with this information, a patient is then able to make a truly informed decision that fits their goals.  Dr. Arrington feels it is inappropriate for a provider to simply decide the best treatment for a patient.
With his continued experience and success with treating endometriosis, Dr. Arrington has also been recognized by his peers as a leader in this field.  He has presented lectures at the World Congress of the AAGL and was elected by peers to serve as the Vice-Chair and Chair of the AAGL Endometriosis Special Interest Group from 2022-23.  He is well known in the support group and advocacy arm of patients with endometriosis.  He is sought for participation in various conferences such as the Endometriosis Summit as well as various interviews, podcasts, and webinars.  His voice of advocacy and education can be found on Facebook and Instagram.
Dr. Arrington has been able to give hope, understanding and relief to patients across the world.  How can Dr. Arrington and EndoWest help you?